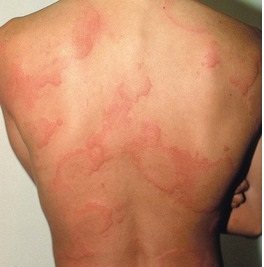 Acute urticaria:
Hives lasting less than six weeks. The most common causes are certain foods, medications, or infections. Insect bites and internal disease may also be responsible.The most common foods that cause hives are nuts, chocolate, fish, tomatoes, eggs, fresh berries, and milk. Fresh foods cause hives more often than cooked foods. Certain food additives and preservatives may also be to blame.
Drugs that can commonly cause hives and angioedema include aspirin and other nonsteroidal anti-inflammatory medications such as ibuprofen, high blood pressure drugs (ACE inhibitors), or painkillers such as codeine.

Chronic urticaria:
Hives lasting more than six weeks. The cause of this type of hives is usually more difficult to identify than those causing acute urticaria. For most people with chronic urticaria, the cause is impossible to determine. In some cases, though, the cause may be thyroid disease, hepatitis, infection, or cancer.

Physical urticaria:
Hives caused by direct physical stimulation of the skin — for example, cold, heat, sun exposure, vibration, pressure, sweating, and exercise. The hives usually occur right where the skin was stimulated and rarely appear elsewhere. Most of the hives appear within one hour after exposure.

Dermatographism:
This is a common form of physical urticaria where hives form after firmly stroking or scratching the skin. These hives can also occur along with other forms of urticaria.