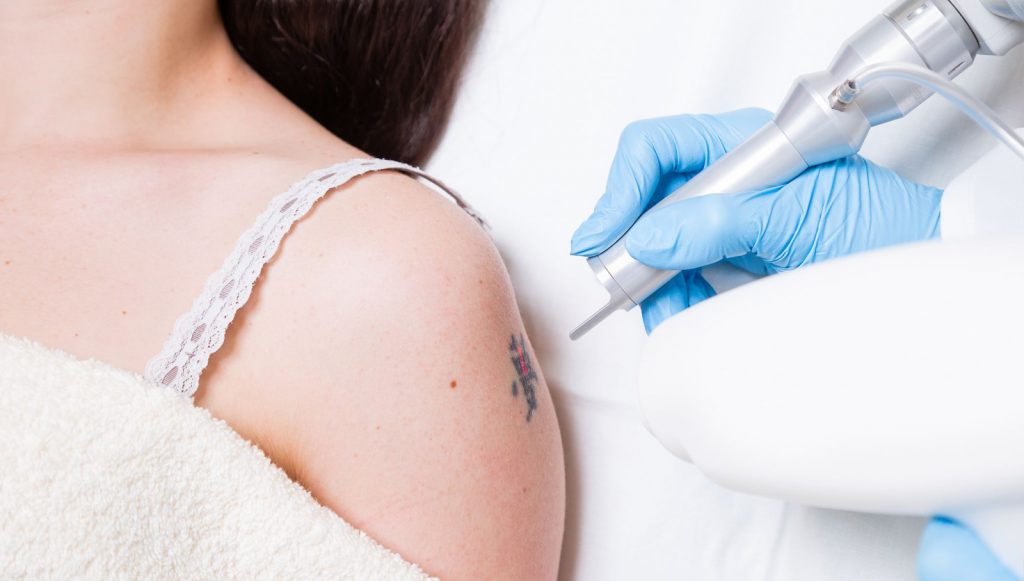 The process of removing a tattoo is far from the painful, stressful experience many make it out to be. In fact, at Skin & Sculpt Clinic, our focus is to ensure your maximum comfort and satisfaction with this specialized treatment. To better understand what goes into tattoo removal, we should explore what goes into this long-lasting dermal art itself.
The chemical makeup of tattoos hasn't changed much over the course of history. They still consist of thousands of small pigments of permanent ink, which are injected into the dermis. However, the reason they remain visible until professionally removed is that these particles of ink pigments are far too large for the body to naturally remove them. If you get a tattoo, it will remain there indefinitely.
This treatment works by using a high-powered, short pulsed beam of light, which is delivered at highly precise wavelengths to the dermis. Over time, this pulsating light will break up the tattoo's ink pigments into smaller particles, enabling them to be more easily absorbed by the skin. With continued treatment over multiple sessions, the tattoo will either fade or completely disappear as your body gets to work, with extra sessions likely necessary to eliminate more complicated, larger designs.
When it comes to tattoo removal, no longer do you need to show your skin with regret. Skin and Slpt Clinic has the innovative technology and professional experience needed to ensure the results you deserve. For more information about our laser tattoo removal services and how you can count on us for dependable results, contact us today!
Dr. Himanshu Paul, an expert in hair transplantation and aesthetic rhinoplasties has completed his MBBS from JNMC, Aligarh Muslim University, Aligarh, UP and thereafter his MS (General Surgery) from PGI Rohtak. After post-graduation, he worked as an sr. resident in General Surgery, PGI for 3 years and gained vast experience in managing and operating upon various types of routine, emergency, and rare cases including Neurosurgery, Pediatric Surgery, Oncosurgery, GI Surgery, Urology, Burns, Trauma and plastic surgery cases.
Book Your Consultation Today
Come and discover Skin & Sculpt where we focus on creating balanced
& natural results for all your dermatology, plastic surgery and hair transplant needs.
Schedule Your Appointment At +91 98551 26663, +91 98551 26664